…that's friendship
For those of you reading this, you might be as gifted as me to be able to travel the world in this life. If not, please take every photo and word in, that the best thing you can do is experience this planet with the beauty it has to offer; you don't have to travel by plane or take a road trip to feel this. Simply listen to your friends, meet new people, learn about someone's religion, beliefs, culture and always be curious. That's the intention of traveling, to experience something new, right?
Looking back on this certain experience, I have to say that I'm grateful it's over. I'm grateful I did it, but I'm so happy it's over.
I'd just flown in from Thailand and my good friend, Alex, met me at the airport in Queenstown, New Zealand. Which happened to be my home at the time. It was pretty amazing to connect with someone I knew in Canada and to plan an epic hike together in a different country. I was only able to get two and a half weeks off work so I had to squeeze in a 63km hike right after my Thai holiday, obviously. Who doesn't do that? Like I love hiking 63kms jetlagged. It's the best.
I prepared myself for it though, on the plane, so that's fine. We were to wake up at 6am the next morning to begin the drive to the Kepler trail head, one of New Zealand's Great Walks.
Ok, so I drove there, we're so excited – bags full. 3 days 20km per day, really doable.
Headlamps…Check!
TP… Check!
Tons of food….Check!
Warm Clothes…Check!
Wet Weather Gear…Check!
Chocolate…Check!
Really awesome footwear….
New Zealand has TONS to offer. The hikes are incredible, the people are amazing and Lord of the Rings is great. I mention that because everywhere you turn is magical. I do LOVE Australia, but most insects and reptiles are there to mostly gross you out or kill you. In New Zealand, they have chubby birds that can't fly and everything glows in the dark. You know Toad from Mario? I saw that mushroom in the wild, they exist, WTF. I feel like if Alice went anywhere, New Zealand would be the Wonderland she landed in.
Ok, anyways. There are 10 Great Walks and we were lucky enough to get a spot in a hut on the Kepler track for the first night. We did good, nailed it. Didn't even feel that tough. We hadn't hit the summit yet but we had 2 more days of hiking left so we thought we'd put our feet up.
We woke up bright and early the next morning for the next 32kms of our track. This was the big one though. A bit of a bigger day to get to the campsite we'd booked. There was an epic summit to concur which was included in this day too, so we got going.
Firstly, I was used to hiking with people who timed their adventures. To see if we could complete the track faster than the recommended time. Alex isn't like that. It took me the day to realize it because at that moment I remember wanting to get to our next destination so we could set up camp and get settled, he liked to smell the flowers on the way so I took a step back to enjoy them too.
Here we are, getting up to the highest part of our hike. Still completing it in good time, it's a little windy, I'm a little tired. He's doing good.
We stopped to have lunch at the hut, where the view was one of the most beautiful of the whole trip.
It was really neat because a helicopter had flown down really close to us and we stopped to talk to one of the researchers who said they're studying a type of bat species in that area which are apparently really small.
Alex, being the adventurer of the day thought we could hike a little further out to a cave he wanted to check out. I was ready to keep going since we still had around 13kms to go until we got to the campsite. Also, I don't like caves. I watched this movie once, I don't know what it's called, but it put me off caves for life. So I waited at the entrance on the steps calling out to him every once in a while to make sure whatever crazy monster that didn't exist didn't get him.
Ok, he's out of the cave, we continue walking and around an hour later it starts to get real windy, and a little rainy. I'm getting grumpy and tired and by the time we got to the campsite I was over it. We only had 10kms left to complete the hike. That's not that much, right?
Plus, it would be nice to sleep in a bed and just get going. My brain was in home mode.
I didn't really think about adding up the kms that we had done without taking a break. What it would have added up to be was 42km's, an ascend and descend as well as a mini trip to the cave.
I made the call, and we continued on, so then I then became the adventurer of the day … A turning point in our friendship.
This is where we could have camped. I swear though, in my memories looking back, it was cold and rainy.
2kms into the rest of our hike, my feet started to hurt a little. I was really grumpy, and conversation wasn't super awesome. Mostly me complaining.
5kms until completion of the hike… I didn't think I would make it, the beds around the trees were looking mighty comfortable and my feet were aching with every step. Maybe because I wasn't wearing proper hiking shoes? Why did I think that a hybrid running / hiking shoe would be good for a 63km hike within 2 days?
Alex says that he was feeling like his body was meeting a breaking point, but I didn't hear him complain once, instead he found 2 sticks that would take some weight off my feet.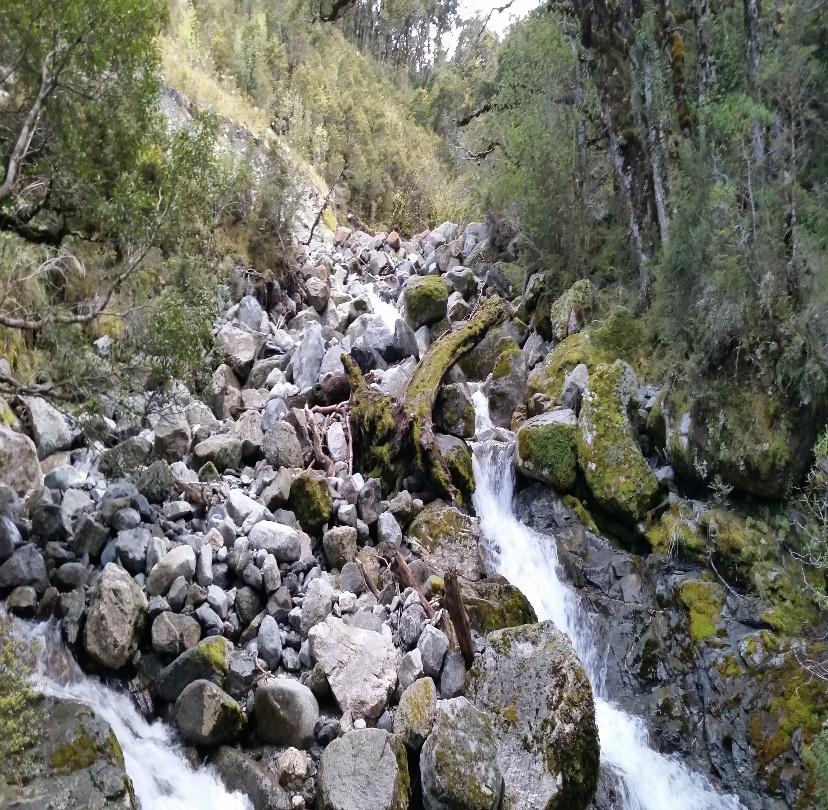 Every turn that felt like the last one, wasn't. I just wanted to see the bridge we needed to cross to get to the vehicle. And there it was, and this is also the final photo of the trip… funny that. If I had known that Alex was even taking any of these photos I would have lost my shit. This was definitely the worst anyone, ever has ever seen me, mentally. Congratulations on being that person, Alex.
A huge learning for me in this pivotal moment is be grateful that every experience is there to teach you something; embrace every step, take in the beauty, enjoy the people you're with and don't hike 42km (a marathon) including an ascend and a descend in one day. It's a bad idea. All the time. Unless you're an Olympic athlete or doing it for a shit ton of money.
Last week, Alex and I did a hike in Banff for my birthday. A sunrise hike where I swear I was a whole lot more composed. My mom asked why he would ever hike with me again, and I still don't know.